Displayed here are the spectacular Frankenstein Cliffs.
The Spectacular White Mountains of New Hampshire
The Mountains of New Hampshire are a wonderful place to escape, explore and create unforgettable memories. Experience towering peaks and stunning scenery unrivaled anywhere in the Northeast.
48 4K Peaks
A 4,000 footer is a mountain that has an elevation of at least 4,000 feet and a minimum of 200 feet prominence. All criteria are determined by the Appalachian Mountain Club (AMC).
Here's the list of all 48 4K Peaks!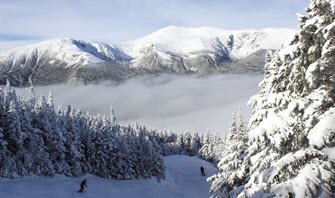 Downhill Skiing
Some of the best skiing in New England can be found in the beautiful White Mountains of New Hampshire, where summits rise high, snow is abundant, and views go on forever.
Canopy Tours
A Canopy Tour is the ideal adventure. Nature lovers, bird watchers, and thrill-seekers will all find something to excite them. The beauty of majestic mountains will be all around you.
Waterfalls
A perennial favorite activity in the White Mountains of New Hampshire is exploring the waterfalls in this beautiful area.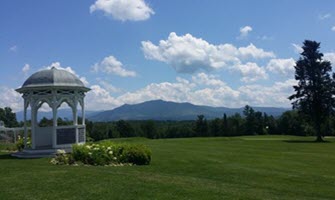 Golf
Golfing in the White Mountains isn't appealing just because of the variety of places where you can hit the links; each White Mountains golf course offers something different.
Car Touring
The White Mountain National Forest and region is a fantastic place for scenic driving and one of the most popular activities for visitors. 
White Mountains 
National Forest Acres
There is a long history and a wide variety of cultural sites, including Native American villages, camps, quarries, hunting grounds, travel ways, and spiritual places.
The beautiful White Mountains!
An abundance of land and water trails to explore, both motorized and non-motorized. Experience supreme panoramic vistas.
Relax at the end of your day with superior lodging and dining.
Get information to help you plan your trip at the Mt Washington Valley Chamber of Commerce.
Here are links to some White Mountains Area Chambers of Commerce – they are a great place to start for ideas and information.
Visit The White Mountains
The Western White Mountains