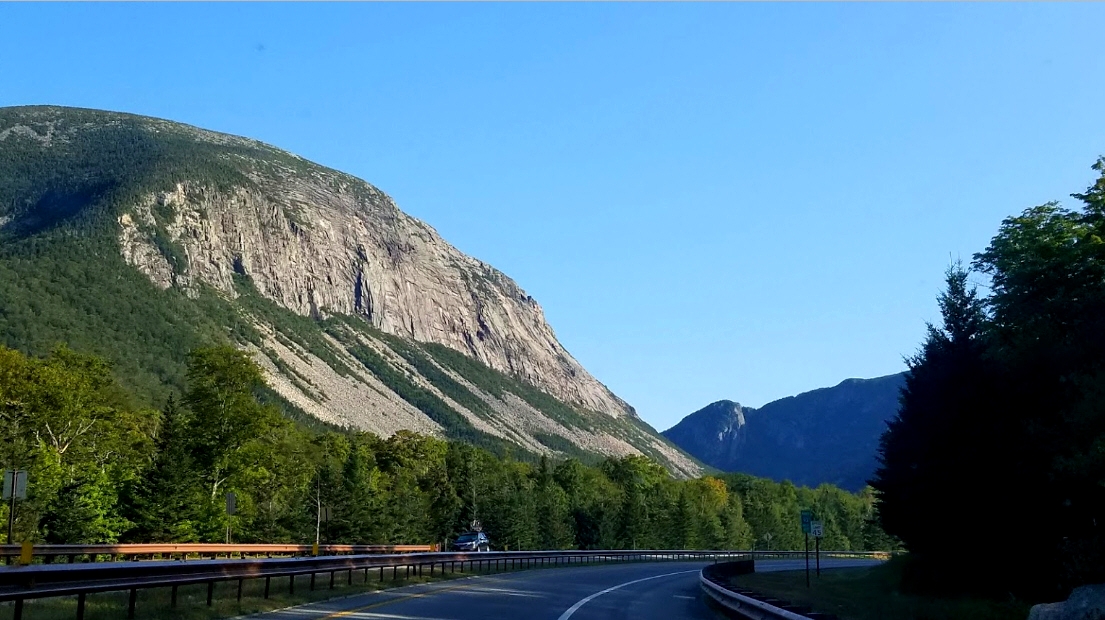 The White Mountains are a mountain range covering about a quarter of the state of New Hampshire and a small portion of western Maine in the United States. They are part of the northern Appalachian Mountains and the most rugged mountains in New England. The range is heavily visited due to its proximity to Boston and, to a lesser extent, New York City and Montreal, Quebec, Canada.
Most of the area is public land, including the White Mountain National Forest and a number of state parks. Its most famous mountain is 6,288-foot (1,917 m) Mount Washington, which is the highest peak in the Northeastern United States and for 76 years held the record for fastest surface wind gust in the world (231 miles per hour (372 km/h) in 1934). Mount Washington is part of a line of summits, the Presidential Range, that are named after U.S. presidents and other prominent Americans.
The White Mountains also include the Franconia Range, Sandwich Range, Carter-Moriah Range and Kinsman Range in New Hampshire, and the Mahoosuc Range straddling the border between New Hampshire and Maine. In all, there are 48 peaks within New Hampshire as well as one (Old Speck Mountain) in Maine over 4,000 feet (1,200 m), known as the four-thousand footers.
The Whites are known for a system of alpine huts for hikers operated by the Appalachian Mountain Club. The Appalachian Trail crosses the area from southwest to northeast.
The magma intrusions forming the White Mountains today were created 124 to 100 million years ago as the North American Plate moved westward over the New England hotspot. There is widespread evidence of glaciation as seen in the U-shaped form of various notches, or mountain passes. Glacial cirques form the heads of Tuckerman Ravine on Mt. Washington and King Ravine on Mt. Adams. Glacial striations are visible at numerous locations, including on the exposed rocks at the summit of Pine Mountain in Gorham.
The White Mountains drew hundreds of painters during the 19th century. This group of artists is sometimes referred to as belonging to the "White Mountain school" of art. Others dispute the notion that these painters were a "school", since they did not all paint in the same style as, for example, those artists of the Hudson River School.
Mountain
Mt Washington

Mt Adams

Mt Jefferson

Mt Sam Adams

Mt Clay (or Reagan)

Boott Spur

Mt Quincy Adams

Mt Monroe

Mt Madison

Mt Abigail Adams

Mt Adams "5"

Mt Lafayette

Mt Lincoln

Mt Franklin

S Twin Mountain

Carter Dome

Mt Moosilauke

Little Mt Haystack

Mt Eisenhower

North Twin Mountain

Mt Carrigain

Mt Bond

Gulf Peak

Mt Hight

M Carter Mountain

N Carter Mountain

Mt Guyot

West Mt Bond

Mt Blue

S Peak Mt Moosilauke

Mt Garfield

Mt Liberty

S Carter Mountain

Wildcat Mountain

Mt Hancock

S Peak Mt Kinsman

Mt Field

Mt Osceola

Mt Flume

S Mt Hancock

Mt Pierce (or Clinton)

Wildcat B

N Peak Mt Kinsman

Mt Willey

Wildcat C

Bondcliff

Zealand Mountain

N Peak Mt Tripyramid

Mt Jim

Mt Cabot

E Peak Mt Osceola

M Peak Mt Tripyramid

W Peak Mt Osceola

Cannon Mountain

S Peak Mt Tripyramid

Mt Hale

Mt Jackson

Mt Tom

Wildcat D Mountain

Mt Moriah

Wildcat E

Mt Passaconaway

Owl's Head (Franconia)

Galehead

Mt Whiteface

Mt Waumbek

Mt Isolation

Mt Tecumseh
Elevation (Feet / Meters)
6,288 / 1,917

5,774 / 1,760

5,712 / 1,741

5,584 / 1,702

5,532 / 1,686

5,492 / 1,674

5,394 / 1,644

5,384 / 1,641

5,367 / 1,636

5,348 / 1,630

5,266 / 1,605

5,249 / 1,600

5,089 / 1,551

5,004 / 1,525

4,902 / 1,494

4,832 / 1,473

4,802 / 1,464

4,800 / 1,463

4,780 / 1,457

4,761 / 1,451

4,700 / 1,433

4,698 / 1,432

4,692 / 1,430

4,675 / 1,425

4,610 / 1,405

4,589 / 1,399

4,580 / 1,396

4,540 / 1,384

4,529 / 1,380

4,523 / 1,378

4,500 / 1,372

4,459 / 1,359

4,430 / 1,350

4,422 / 1,348

4,420 / 1,347

4,358 / 1,328

4,340 / 1,323

4,340 / 1,323

4,328 / 1,319

4,319 / 1,316

4,310 / 1,314

4,305 / 1,312

4,293 / 1,309

4,285 / 1,306

4,285 / 1,306

4,265 / 1,300

4,260 / 1,298

4,180 / 1,274

4,172 / 1,272

4,170 / 1,271

4,156 / 1,267

4,140 / 1,262

4,114 / 1,253

4,100 / 1,250

4,090 / 1,247

4,054 / 1,236

4,052 / 1,235

4,051 / 1,235

4,050 / 1,234

4,049 / 1,234

4,046 / 1,233

4,043 / 1,232

4,025 / 1,227

4,024 / 1,227

4,020 / 1,225

4,006 / 1,221

4,004 / 1,220

4,003 / 1,220
Notes
Tallest in the North East, AT

One of the Presidentials

One of the Presidentials

Subpeak of Mt Adams

Subpeak of Mt Washington

Subpeak of Mt Washington

Subpeak of Mt Adams

One of the Presidentials

One of the Presidentials

Subpeak of Mt Adams

Subpeak of Mt Adams

4000'er, 50 Finest, AT

4000'er, AT

Subpeak of Mt Monroe

4000'er, AT

4000'er, 50 Finest, AT

4000'er, 50 Finest, AT

AT, subpeak of Mt Lincoln

4000'er, AT

4000'er

4000'er, 50 Finest

4000'er

subpeak of Boott Spur

AT, subpeak of Carter Dome

4000'er, AT

AT

AT

4000'er

Subpeak of Mt Moosilauke

Subpeak of Mt Moosilauke

4000'er, AT

4000'er, AT

4000'er, AT

4000'er, AT

4000'er

4000'er, 50 Finest

4000'er

4000'er, 50 Finest

4000'er

4000'er

4000'er, AT

Subpeak of Wildcat

4000'er

4000'er

Subpeak of Wildcat

4000'er

4000'er

4000'er

Subpeak of Mt Moosilauke

4000'er, 50 Finest

4000'er

4000'er

Subpeak of Mt Osceola

Cannon Mountain Ski Area

4000'er

4000'er

4000'er

4Ker / AT / Wildcat Ski Area

4000'er, AT

Subpeak of Wildcat D

4000'er

4000'er

4000'er, AT

4000'er

4000'er

4000'er

4000'er, Waterville Valley